Junior College: Class of 2016 Top 85
TexasHoops.com's Junior College analyst Blue Zertuche has put together the Top 85 Junior College Players from Region's 5 (West/North Conference) & 14 (Eastern Conference). The list below consists of Sophomores, and the players are in alphabetical order (last name).
THIS IS NOT A NUMERICAL RANKING.
However, the number 1 player in the class of 2016 is Devin Davis of Odessa College whose quickness, ability to score inside and out and rebound, puts him atop of the class.

Also, below is the Metro Conference Top 10 Players.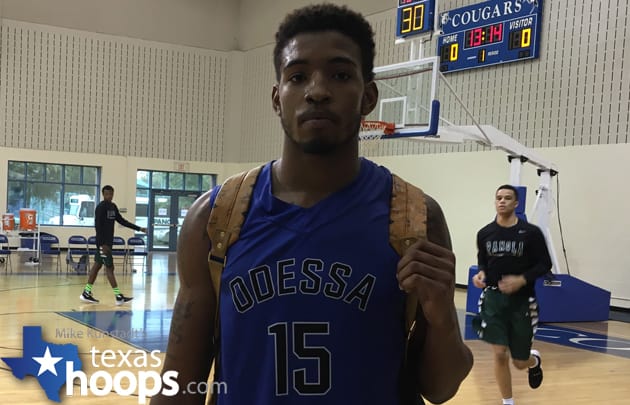 C/O 2016 Top 85 Junior College
Player
Height/Position
Junior College
Commitment

Louis Adams

6-4/F

Odessa

Ike Agusi

5-10/G

Jacksonville

Keir Anderson

6-2/G

Navarro

Curtiss Anderson

6-8/P

Western texas

Louisiana Lafayette

Christian Bambrook

6-7/F

Hill

Kahari Beaufort

6-4/G

Angelina

Norfolk

Tyler Blount

5-11/G

New Mexico

Texas State

Che Bob

6-5/F

South Plains

Colorado State

Devocio Butler

6-4/W

Hill

Colorado State

Zach Charles

6-7/F

McLennan

Eastern Kentucky

Tim Coleman

6-1/G

Lee

Utah

***Devin Davis

6-6/F

Odessa

Houston

Cohen Desouza

6-8/F

Tyler

St Francis (PA)

Mambi Diawarsa

6-5/W

Lamar State

Deris Duncan

6-4/W

Weatherford

Texas State

Morris Dunnigan

6-3/G

Blinn

Houston

Stephen Edwards

6-2/G

Trinity Valley

Ilker Er

6-7/F

San Jacinto

Maine

Traylin Farris

6-8/P

Odessa

Daeshon Francis

6-4/F

Midland

SFA

Joey Frenchwood

6-1/G

Hill

Lamar

Norbertas Giga

6-9/P

Midland

Jacksonville State

Leon Gilmore

6-7/F

Trinity Valley

SFA

Fa'Teem Glenn

5-10/G

Clarendon

Vlatko Granic

6-8/F-P

Weatherford

Loyola (IL)

Solomon Hainna

6-5/F

Midland




Roderick Harris

6-6/F

Frank Phillips

Jordon Harris

5-11/G

Lamar State

Louisiana Monroe

Jalin Hart

5-10/G

New Mexico

Incarnate Word

Randy Haynes

6-4/G

New Mexico

Old Dominion

Corey Henderson

6-3/G

Blinn

Tulsa

Isaiah Hobbs

6-4/F

Howard

Brandon Hollins

6-6/F

Paris

Terry Holt

6-4/G

Panola

Josh Huntley

6-7/P

San Jacinto

Joby Jackson

6-5/F

Collin County

Aundre Jackson

6-6/F-P

McLennan

Loyola (IL)

Brandon Jenkins

6-4/G

Lee

LSU

Alize Johnson

6-8/W

Frank Phillips

Missouri State

Marlon Jones

6-9/P

South Plains

Tyous Jourdan

6-5/F

Coastal Bend

Link Kabadyundi

7-1/P

Blinn

Alassane Kah

6-9/F

Kilgore

Old Dominion

Diamonte Langston




Xavier Ledet

5-10/G




6-3/G

South Plains




Western Texas

Abilene Christian







Larry Lewis

6-2/G

Odessa

Stephaun Limuel

6-5/F

Jacksonville

Emporia State

Nehmiah Mabson

6-6/P

New Mexico Military

UT Martin

Jamar Martin

6-4/F

Navarro

Charleston Southern

Cameron Martin

6-0/G

Temple

Lucious McKay

6-0/G

Frank Phillips

*Alex Mills

6-1/G

McLennan

North Carolina Central

Antonio Moore

6-7/F

Kilgore

Deonte North

6-4/W

South Plains

Portland State

Reggie Oliver

6-0/G

Howard

Quinnipiac

Liam O'Rielly

6-1/G

Collin County

Gardner Webb

Shaq Preston

6-3/F

Howard

Cole Price

6-4/G

Temple

Kevin Pritchard

6-3/G

Clarendon

Duop Reath

6-9/F-P

Lee

LSU

Josh Robinson

6-5/G

Trinity Valley

Southern

Candido Sa

6-9/F-P

San Jacinto

Rutgers

Anthony Sanders

6-0/G

Collin County

Omar Sherman

6-8/F-P

Paris

Louisiana Tech

Ronnie Stacy

6-1/G

Tyler

Oregon State

Darryl Stewart

6-2/G

Tyler

New Hampshire

James Suber

6-6/F

Panola

Cal State Bakersfield

Josh Tatum

5-11/G

Weatherford

Evan Taylor

6-4/G

Odessa

Shane Temara

6-8/P

Angelina

North Texas

Rennard Thomas

5-10/G

Ranger

TJ Thomas

6-8/F

Tyler

Drake

DJ Thorpe

6-3/W

Western Texas

West Florida

Charles Tucker

5-11/G

Panola

Sacred Heart

Arta Turner

5-11/G

Clarendon

JD Wallace

6-10/P

Southwestern Christian

JC Washington

6-6/F-P

Trinity Valley

Charlotte

Colton Weisbrod

6-5/F

Lamar State

Lamar

Jaleel Wheeler

6-3/G

Kilgore

Tulsa

Tyler Whitehead

6-4/G

Navarro

Jonathan Wiley

6-6/W

Panola

Southern Illinois

Josh Williams

6-2/G

Jacksonville

SAGU

Freddie Williams

6-4/G

Lamar State

St Mary's (TX)

Michael Wolfe

6-9/F-P

South Plains

North Carolina Central

Devin Wyatt

6-7/F

New Mexico
Metro Conference Top 10
| Player | Height/Position | Junior College | Commitment |
| --- | --- | --- | --- |
| Tremonde Anderson | 6-4/F | Eastfield | |
| Jeremy Crane | 6-2/G | North Lake | |
| PJ Escobar | 5-9/G | North Lake | Our Lady of the Lake |
| Jordan Francis | 6-3/F | Richland | |
| Letron Manning | 6-2/F | Eastfield | Wiley College |
| Chisom Obineke | 6-4/P-F | Brookhaven | |
| Jamal Ray | 6-0/G | Mountain View | |
| Raybon Riden | 6-0/G | Cedar Valley | |
| Anthony Walker | 6-7/F | Mountain View | |
| Ed Williams | 5-11/G | Eastfield | University of Southwest |